MSI is an authorized partner for FrontRange on the GoldMine and GoldSync product line

MSI offers sales, training, support, and integration of GoldMine products

MSI is a FrontRange authorized partner and can assist with sales for HEAT Help Desk products

MSI is a Microsoft Certified Partner and is in the process of updating several products to make them Microsoft XP Certified

MSI is an HP authorized 2nd tier reseller for specific products

MSI is a member of the Fort Collins Chamber of Commerce

Training Products:

LearnKey offers training CD's and Video's for a variety of programming languages, operating systems, software titles and certifications.

Other Programs:

Software for Customer Service, Help Desk and Call Tracking

Palm PDA Sync for GoldMine and ACT!
ESET NOD32 Antivirus Software
"Built on the award-winning ThreatSense engine, ESET NOD32 Antivirus proactively detects and disables more viruses, trojans, worms, adware, phishing, rootkits and other Internet threats than any program available. ESET NOD32 Antivirus provides: * Proactive Protection: The award winning ThreatSense technology combines multiple layers of detection protecting you from Internet threats before it is too late. * Precise Detection: ESET accurately identifies known and unknown threats. It consistently wins top awards from testing labs and is recognized for having zero false positive. * Lightweight Design: Requires less memory and CPU power, allowing your computer to run fast, making more room for games, web browsing, and emailing. * Fast Scanning Speeds: Highly efficient program ensuring fast file scanning and product updates. It runs quietly in the background. Proactive, precise, lightweight and fast. You won't find a better antivirus program."
---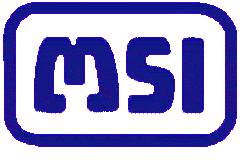 Click
here
for more information on MSI's Consulting Services.
The above marks and logos are the property of their respective companies, subsidiaries and affiliates. MSI is an HP authorized 2nd tier reseller for specific products. MSI is an independent contractor and not an agent, division, subsidiary or other entity of any of the companies mentioned above.